Page 5 - Ancient Illuminati Code (Jake Parker) :: Flip It & Read It
P. 5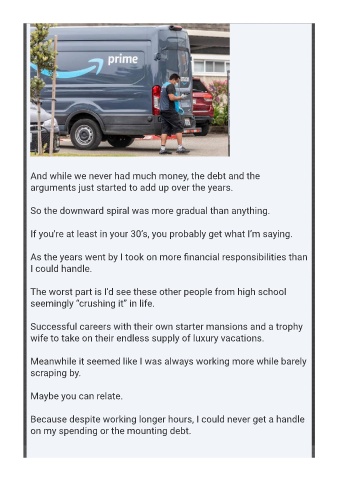 And while we never had much money, the debt and the
         arguments just started to add up over the years.


         So the downward spiral was more gradual than anything.

         If you're at least in your 30's, you probably get what I'm saying.


         As the years went by I took on more  nancial responsibilities than
         I could handle.

         The worst part is I'd see these other people from high school
         seemingly "crushing it" in life.


         Successful careers with their own starter mansions and a trophy
         wife to take on their endless supply of luxury vacations.

         Meanwhile it seemed like I was always working more while barely
         scraping by.

         Maybe you can relate.


         Because despite working longer hours, I could never get a handle
         on my spending or the mounting debt.