Page 9 - Ancient Illuminati Code (Jake Parker) :: Flip It & Read It
P. 9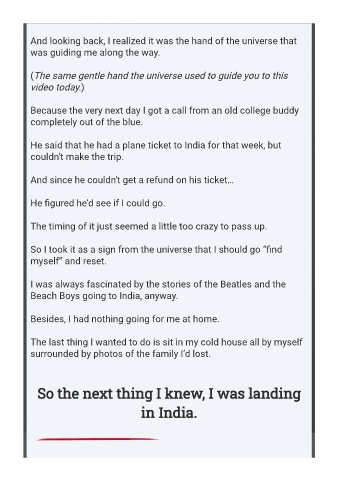 And looking back, I realized it was the hand of the universe that
         was guiding me along the way.


         (The same gentle hand the universe used to guide you to this
         video today.)

         Because the very next day I got a call from an old college buddy
         completely out of the blue.


         He said that he had a plane ticket to India for that week, but
         couldn't make the trip.


         And since he couldn't get a refund on his ticket…

         He  gured he'd see if I could go.


         The timing of it just seemed a little too crazy to pass up.


         So I took it as a sign from the universe that I should go " nd
         myself" and reset.

         I was always fascinated by the stories of the Beatles and the
         Beach Boys going to India, anyway.

         Besides, I had nothing going for me at home.


         The last thing I wanted to do is sit in my cold house all by myself
         surrounded by photos of the family I'd lost.



          So the next thing I knew, I was landing

                                    in India.